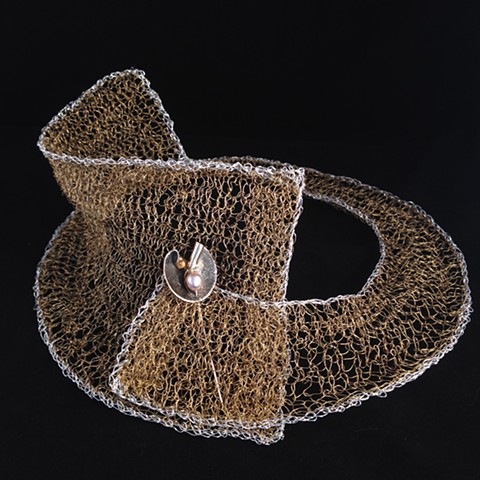 Maria F. Rodriguez
Artist and Jewelry Designer
The artistically crafted designs of Mariflor Joya echo the creative spirit of generations of Spanish ancestry. After many years indulging her talent as a painter, the artist turned to the 3-dimensional forms found in jewelry. Each unique piece of jewelry pays homage to rich family traditions rooted in old world craftsmanship. Elements from delicately hand fabricated wedding gowns, intricately woven patterns, and architectural designs are reinterpreted to create unique pieces of wearable art. The collections not only preserve memories but also create new ones.
Working in both precious and non-precious metals, the textures produced using techniques such as reticulation and fold-forming evoke the fluidity of textiles. Provocative dimensions and striking colors are created with heat and other patinas on diverse metals. The various techniques of weaving and crocheting are explored in fabricating pieces that rely on traditional as well as new designs. Often embellished with pearls or gemstones, the feather-like creations take on a delicate ethereal quality.
Whether working in sheet metal or wire, the jewelry projects the complexity of women and the duality of their strength and grace.
Her work has been featured in the 2013 Lark Publication, "Showcase  500 Art Necklaces" and on the 2017 New York Fashion Week Runway.